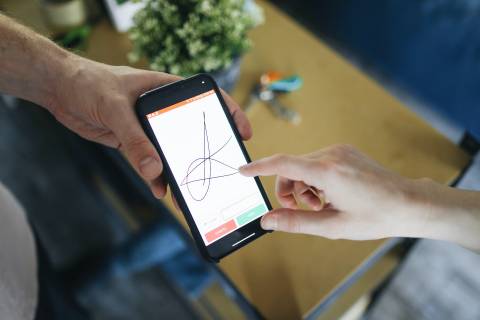 As the name implies, an electronic signature is a signature that is stored and transmitted in electronic form. As with wet signatures, it allows signatories to approve or agree with the terms of a document. In electronic signatures, computers are used to verify the identity of the signatory and the integrity of the document. 
So, are electronic signatures secure? Of course they are as they are backed by technology to ensure the authenticity of the signatures.
Benefits of Using Electronic Signatures
Electronic signatures speed up approvals and agreements by eliminating idle periods from the process. It's quicker and easier to send documents by electronic signature than to send them by mail or drive to a drop-off point. 
Electronic signatures also make the signing process much more manageable. Since electronic signature solutions are so portable, you can sign or request signatures from virtually anywhere in the world using your preferred gadget or device. 
Moreover, since many electronic signature solutions will only let you submit a document once each signature field is filled in, you don't have to worry about minor errors becoming major headaches. 
What are Electronic Signatures used for?
Documents sent online can be signed electronically, eliminating the need to sign paper documents with a wet ink signature. Here are some exceptional uses of electronic signatures:
You can use an electronic signature to sign legal documents, contracts, invoices, financing documents, and more. But are electronic signatures legal? Yes, they are accorded the same legal status as handwritten signatures in all U.S. states. In other words, electronic signatures have the same legal value and effectiveness as handwritten signatures.

Businesses, especially SMEs, are usually disadvantaged when it comes to negotiating with vendors; thus, managers need to be in a position to lock in the terms and prices immediately after reaching an agreement. When managers or business owners sign documents online, they can finalize any deal with their vendors within minutes, capitalizing on the earlier-mentioned benefit.

For businesses that deal with custom-made goods, that final approval prior to manufacturing is very important. By using e-signatures, you can capture and store approvals securely and easily so that you can focus on completing the order quickly.
Lawyers, investigators, attorneys, and other players in the legal industry sign documents on a daily basis. In the practice of law, an electronic signature saves you a lot of time compared to handwritten ones. Furthermore, legally binding electronic signatures are convenient and admissible in court, making them ideal for common legal agreements such as licensing of intellectual property and non-disclosure agreements. 
Comparing Wet, Digital, and Electronic Signatures
Wet Signature
A wet signature is created for a person to sign documents. It is often done by writing a name (or even a simple "X") in a stylized, cursive font. It is similar to what other cultures do with name seals. In both cases, the word "wet" implies that the signature takes time to dry, as it was created with ink or wax.
Electronic Signature
An electronic signature is a digital representation of a person's intent to agree to the contents of a document to which the signature pertains. In the same way as a handwritten signature, an electronic signature demonstrates an individual's intent to abide by the terms of the document signed.
Digital Signature
Among electronic signature types, digital signatures are considered the most secure electronic signature. For verification of the legitimacy of the signator (the author and owner of the signature), the digital signature includes a certificate of authority, such as a Windows certificate.
A digital signature also allows both parties to determine whether a signed document has been altered in any way that renders it invalid. While electronic signatures are often used synonymously with digital signatures, most electronic signatures lack the security features of true digital signatures.
Types of Electronic Signatures
Simple Electronic Signatures
Simple electronic signatures are the broadest type of electronic signature. They are defined as "data in electronic form which is attached to or logically associated with other data in electronic form and which is used by the signatory to sign." In many cases, simple electronic signatures are considered legally binding. However, for specific documents, higher qualifications must be met.
Advanced electronic signatures
Advanced electronic signatures are signatures that have an "electronic seal" attached to them. In other words, they are transmitted via an "electronic registered delivery service" that can provide evidence regarding handling the transmitted data. These signatures are typically certified by an independent Certificate Authority.
Qualified electronic signatures
Qualified electronic signatures are advanced electronic signatures that meet additional requirements. A qualified eSignature, for example, must have a certificate based on public keys stored on a cryptographic card (or equivalent device) with a double authentication factor. There also must be prior identification of the signatory by an audited entity.
How to create and change electronic signatures
There are various ways to create and change electronic signatures. A handful of electronic signature software provide services that allow creating and changing an electronic signature. These methods are:
1. Draw and Scan
It's the most common method for users to make an electronic signature. It is pretty simple as it uses an actual handwritten signature and only needs to be digitalized through scanning. While it is simple and straightforward, it might be less convenient once a user learns how to create an electronic signature using other methods. The signature is not secured either since users will not have a digital ID or a digital certification that proves its authenticity.
2. Adobe Acrobat Sign
You can apply your signature to a document in several different ways using Adobe Acrobat Sign.
You do not need to predefine your signature file if you are using the default Acrobat Sign signature text font.

You can use either a mouse or a stylus to draw your signature.

Your signature file can be uploaded in the following formats: .bmp, .png, .gif, and .jpg.
Create a new signature by hovering over your name in the window's upper-right corner.

Click the Create button.

Using the signature panel, you can sign using two options:
Draw – You are asked to physically use a finger or stylus to draw your signature in the signature space.

Image – Upload an image of your signature.  
Click Apply once you've chosen your signature.
Consequently, users can replace their signatures by:
On the window's upper right, hover your mouse over your name

Simply click Clear to delete the signature file.

Follow the above steps to create your new signature.
3. Microsoft Word (Versions 2007, 2010, 2013, 2016, 2019, and Word in Office 365)
For adding a signature to a Word document, place the cursor where you wish to do so.

Click the Insert tab, then select "Signature List," then "Microsoft Office Signature Line."

When the setup box pops up, fill out the fields related to signature details and select your signature preferences.

Right-click the document's signature box.

Click "Select Image" to choose a saved image of your signature.
It is also possible to manually draw your signature into the box if you use a touch screen. If you prefer, you can type your name directly into the box.
Preview (Mac)
Mac users can easily and quickly sign PDF documents using Preview. To create your signature, you can use your computer's built-in camera or trackpad to create a PNG-friendly version.
Click the Sign button in the Preview app on your Mac. If the Markup toolbar isn't visible, click the Show Markup Toolbar button.

If the option to make a signature appears, click it and do as instructed.
Create a signature using your trackpad:

Select Trackpad, click the text as prompted, sign your name using your finger on the trackpad, press any key, then select Done. Don't like the result? Just hit Clear and start over.
If your Mac has a Force Touch trackpad, you can use more pressure to make a thicker, darker line when signing.
Create a signature using your computer's built-in camera:

Click Camera. Hold your signature (on white paper) in front of the camera to level with the blue line in the window. As soon as your signature appears in the window, click Done. If you're unsatisfied with the results, click Clear and try again.

Create a signature using your iPhone or iPad:

To choose a device, click Select Device (if more than one is available). When you have signed your name on your device, you can use your finger or Apple Pencil (on the iPad). Tap Clear, then try again if you don't like the results.
To add your signature to your PDF, click the Sign button and then click the signature. (If you use VoiceOver to add descriptions of your signatures, VoiceOver reads the descriptions as you navigate the list of signatures.)
Use the handles to adjust the signature size after you've chosen it. Drag it to where you want it, and the signature should appear where you want it.
Key Takeaways
With the rise in demand for workflow automation and SaaS technologies, an increasing number of organizations, ranging from small businesses to multinational corporations and even government agencies, have adopted electronic signatures. And why wouldn't they be when its legality is clear, its benefits are numerous, and the risk is low? Surely, you can't miss leveraging this modern trend for your own purposes.
Best eSign software solutions