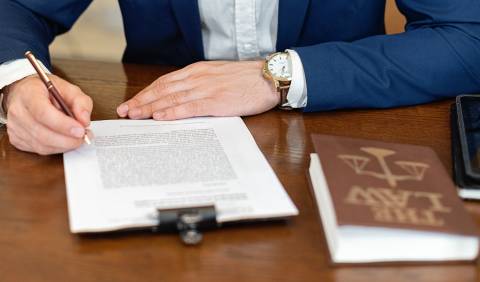 As governments impose various restrictions and safety protocols in response to the COVID-19 pandemic, businesses and consumers are turning to technology for more secure products and services. This has also triggered an increased demand for online services like online notarization.
Online notarization is a new service offering that eliminates the need for paper-based notarizations. Another term for it is remote online notarization. It is essential to know what online notarization is – especially if you plan on using this service but don't have a background in notary work. Before we give you the answer, we'll first lay the groundwork by giving its precise definition.
What is Remote Online Notarization, and Why Is it Becoming Popular?
The concept of remote online notarization (RON) was first proposed by the National Notary Association (or NNA) in the 1990s. It became popular in the 2000s when more people started using electronic signatures and digital documents for business transactions. Currently, remote notarization is a growing trend in the United States. The NNA reports that there are over 300,000 notarial services operating in the U.S.
Remote online notarization is quickly becoming a popular authentication method because it is fast and convenient. The convenience of remote online notarizations is that you can access an electronic document more quickly from the comfort of your home or office, unlike traditional notary that are in-person and can be time consuming. With the click of a button, you can also get your document notarized virtually anywhere and anytime.
The process of remote online notarization is simple. A third-party provider will be responsible for the electronic notarial certificate. The notary will use an electronic signature to authenticate the notarized documents and then send it to the client's designated email address or upload it to a secure cloud storage system.
The main benefits of remote online notarization include:
convenience and cost-effectiveness

saves time traveling to the nearest notary office

offers greater visibility and access to notary-related documents

enables real-time communications between an individual and the notary

saves money because the process is cheaper than traditional in-person services

includes options such as scheduling appointments at specific times, which are otherwise unavailable when onsite
How Does Online Notarization Work?
The process of online notarization is the same as traditional notarization, except that online notaries work online using audio-video technology. An online notary verifies the signer's identity and ensures that the signer understands and is willing to sign a document. Once the identity proofing is done, an electronic signature is made by attaching an electronic seal and digital certificate to the document.
Besides its convenience, this is a secure and efficient option for signing documents since you can complete them at home or in the office while meeting your notary remotely.
Remote online notarizations are legally valid and can be performed by a remote online notary public. To start performing online notarizations, the notary needs to have access to a computer, reliable Internet connection, fingerprint scanner, and other hardware. All documents that will be notarized need to be readable in electronic format—that is why it is best if you scan them first.
The process of remote online notarization is as follows:
First, the client sends the document to be notarized to the remote online notary public.

The document is then scanned and uploaded to a secure server. This part of the process is carried out by electronic notary software that you can access through a web browser. The software is designed to help users with their legal procedures and needs, such as providing an electronic signature, attesting to the authenticity of documents, and more.

The client then receives an email with an attachment containing a link for them to click on to review the document.

Once reviewed, they hit send, which is sent back to the client for their records.
A formal order of "remote" notarization shall be issued if no defects are found in the notarial certificate before submission to a company holding an online notarial seal.
Compared to traditional paper-based notarizations, remote online notarization saves time and money for both parties involved in the transaction.
How is Remote Online Notarization Different from Electronic Notarization?
As the name suggests, remote online notarization is online notarization that takes place remotely. RON may be distinguished from another form of notarization online called "electronic notarization" or "e-notarization." While both require the notarization of electronic documents, they operate differently.
Remote Online Notarization is the process of notarizing a document in one location and then having that notarization acknowledged in another remote location. This is done by an online notary service provider who provides the necessary technology infrastructure for the remote notarial act to be completed. 
The two parties will use a mutually agreed upon identification process to establish their identities, such as video chat, email authentication, and other verification methods. The notary will then proceed with performing their duties remotely, electronically signing and stamping the document in question.
On the other hand, electronic notarization follows all the normal procedures for notarizing a document. However, the notary will meet with you to draft a will using a digital platform. And allows the parties to sign their names electronically instead of with ink. 
This only means that the will is drafted online, and the signatures are electronically inscribed on the document. The notary will help verify the authenticity of their signatures, validate that they are real people, and authorize them to act on behalf of the other parties involved in the will.
To summarize, the difference between online (remote) notarization and electronic notarization is that the entire process is done online for online notarization. In contrast, for electronic notarization, the signer must be physically present at the exact physical location as the authorized officer.
Who Can Perform an Online Notarization?
Remote online notarizations can only be performed by legally commissioned notaries publicly authorized to perform them. These legally commissioned notaries who are authorized to perform remote online notarizations are called remote online notaries, remote notaries, or online notaries.
Online notarization services are provided by various organizations and individuals, including traditional notaries. The most common notaries are online banks, which use their technology to process customer transactions. Other online notaries include travel agencies and property management companies. Any qualified notary public registered with the NNA and met the conditions set forth by the NNA Board of Directors may conduct an online notarization.
However, not all Notaries can perform online notarizations. To offer this service, you must live or be approved to work in one of the states where remote online notarization is legal.
Currently, online notarization is legal in the following states:
Aside from the states mentioned above, online notarization is legal in South Dakota but with limitations.
S.D. House Bill 1272 was passed during the 2019 legislative session and allowed for video and audio technology use. An online notarization (S.N.) can be performed remotely if there is an original tangible document to affix the notary's signature, which is not the case with a true Remote Online Notarization. It would be better described as a remote ink-signing notarization.
Moreover, the following states are where remote online notarization is not legal or only temporarily allowed it:
Note: Remote Online Notary is not legal everywhere because every state in the U.S. has different laws and regulations on remote notarization. Some states have only temporarily allowed remote notary services, while others have specified that it is not legal. Check with your state's Secretary of State's office before utilizing Remote Online Notary services.
Here are the states that do not yet allow remote notarization:
California

Connecticut

Delaware

Mississippi

Maine

Massachusetts

Rhode Island
How Can I Work as a Remote Online Notary?
Notaries interested in working as online remote notaries must know how they can do so. Two options to consider are working independently as an online remote notary or for a RON vendor. Working independently involves more work since you have to look for signers and negotiate a price with them yourself. 
However, you have more control over your earnings as you may enter into contracts with whoever you like and charge the price that would benefit you best. If you prefer less work, working for a RON vendor is your best bet. They will take care of finding signers for you and deal with setting up appointments for signing documents for clients.
Moreover, an online notary commission is issued to the person who wants to become a notary. The Secretary of State issues the document, certifying that the person has been appointed as a notary public.
The Benefits and Limitations of Remote Online Notarization
The convenience and flexibility of online notarization make it a popular choice for notarizing documents. It offers many advantages over traditional in-person notary services, with convenience's main benefit. It saves time and money, reduces waiting times, and provides instant access to a notary. However, the limitation of remote online notarization is that it is only available for certain types of documents in certain countries. It does not provide a physical signature to prove authenticity. And last, it does not provide the same level of security as a traditional in-person visit with a public notary.
Key Takeaways
Today, remote notarization is changing the way that legal documents are created, signed and delivered. Prospective clients have more options than ever to conduct important business online. Find an online notarization service that will save you time and money.
However, even though you may be in a state that doesn't allow remote notarization right now, you can still learn about how the technology works. If RON is right for your business, now is the time to learn more about it and prepare for how it may impact your operations in the future.
Best eSign software solutions