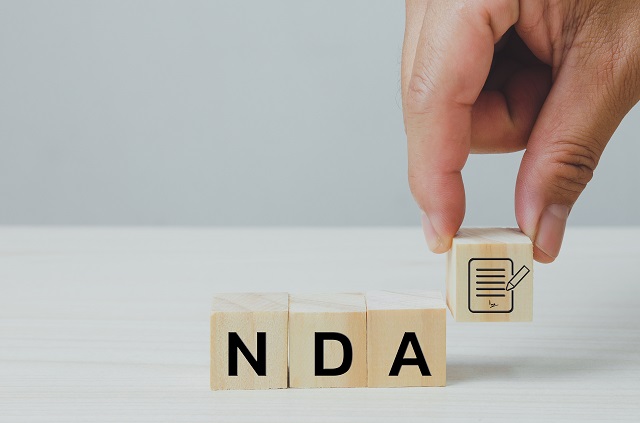 When it comes to maintaining a competitive edge in the marketplace, it is significant for businesses to keep their current undertakings, fresh ideas, and exciting items under wraps. This is especially important if you and a possible business partner have been talking about sharing confidential information while each party determines whether or not to move forward with the partnership.
Indeed, the same holds true for new businesses. If you want to progress on a potentially lucrative idea, you must ensure that no one else is aware of your efforts. But how?
Before discussing a joint venture, merger, or partnership, most successful entrepreneurs and large corporations insist on signing confidentiality agreements. In this way, the parties can feel secure disclosing confidential information to one another without worrying that it will fall into the wrong hands.
What is an NDA?
Nondisclosure agreements are helpful when giving information to possible investors, making deals with vendors, and looking into joint ventures to remain safe.
A nondisclosure agreement is a legal document that protects private information shared by people or companies in the course of doing business together. Once a contract is signed, parties are legally bound to keep the information confidential and not share it or use it for anything other than the business partnership.
So, these documents give your business legal protection from employees or contractors who might disclose sensitive information to a competitor or use what they know about how your business works to start their own brand that competes with yours. With non-disclosure agreements, your business is secured!
What to Include in an NDA?
To further safeguard the business and ensure that the parties, particularly the recipients make every effort to keep the information confidential. Non-disclosure Agreements don't have to be long and difficult to understand, but a company could be held liable if the legal document isn't clear or complete.
To protect both the person who gives out confidential information and the person who receives it, a nondisclosure agreement must have these important parts:
Description of Confidential Information. To a considerable extent, the content regarded as confidential will direct the restrictions of an NDA's scope. Why is the information being disclosed?
Relationships and Duties of the Contracting Parties. Who is making this disclosure, and who will be receiving this information? The party receiving the confidential information must keep it secret and cannot use it for their own benefit.
Duration of the Agreement. Is there a predetermined length of time that the agreement covers, and if so, how reasonable is it? The answer to that question is primarily determined by the business you are in and the nature of the information being divulged.
Additional Provisions and Exclusions. This entails that the recipient has no right to use confidential information in any way other than as specified in the agreement.
Repercussions of Violating the Non-Disclosure Agreement. The penalty for violating a non-disclosure agreement should also be spelled out in an NDA. Liquidated damages, contract or employment termination, or an award of attorney's fees and costs against the breaching party are all potential consequences.
It is standard practice for confidentiality agreements to make exceptions for certain information that does not violate the agreement or where it would be unreasonable to expect the other party to preserve a secret.
Among the exemptions are the following:
The recipient already knows about the information or has already been made public and available for access to the general public.
Before an NDA sign in, the information was already communicated by the disclosing party.
A third party disclosed the information to the recipient, who was not required to keep the information confidential.
Independently created by the recipient without referencing the other party's sensitive information.
When to Use an NDA
Non-disclosure agreements are a good way for businesses to protect their trade secrets and other confidential information. Here are some common situations in which you might want to sign an NDA:
Aids in maintaining the privacy of sensitive information when disclosed.
A company's vendors and other business partners may require access to, or even full disclosure of, commercial or trading information. Under these circumstances, it is necessary to safeguard sensitive information:
Making a pitch for a product or service to a prospective buyer, investor, or distributor
Providing a prospective buyer or licensee with an initial introduction to a brand-new product or service
Giving a potential buyer of your business information about finances and marketing processes
Getting services from a business or person who may have access to sensitive information in the course of providing those services.
Gives the employer more legal options.
Giving employees access to private information about your business as part of their job is indeed risky. If the employee signed a non-disclosure agreement NDA, the employer could use this agreement to pursue legal options and remedies if things go sideways.
Sets expectations for employees.
When an NDA explicitly states which corporate information is protected and the penalties for breaching it, employees are aware of the value of protecting trade secrets from the start.
Different Types of NDAs
NDAs are classified into three types: unilateral, bilateral, and multilateral. Find out when you should use each type:
1. Unilateral NDA
There are two parties involved in this type of NDA. But only one party shares certain information with the other to keep the information from getting out to more people.
2. Bilateral NDA
In this type of NDA, one party is dependent on the other to keep some information secret to prevent unauthorized access. The parties aim neither company would divulge the other's trade secrets when giving access to sensitive information.
3. Multilateral NDA
NDAs of this type involve three or more parties, and at least one of them will share information with the other parties and make sure to keep it from getting out to more people.
How to Sign and Send NDA Using Different Esignature Solutions
After defining the three types of NDAs, we'll get into best practices for signing these confidential agreements in the tech world. Paperless offices are the norm as people switch to electronic signatures. Streamline the processes involving sensitive documents and make it easier to track when needed. With E-signatures, the process of signing non-disclosure agreements becomes smooth and still legally binding, without the possibility of fraud and without the hassle!
Legal teams and law firms can now use Esignature solutions as one of the processes to accelerate legal procedures with secure and compliant eSignatures, improving the customer experience and decreasing agreement turnaround times.
As part of your onboarding process, ensure that your business associates sign a non-disclosure agreement (NDA) to protect your company's intellectual property and trade secrets. To do that, learn how to use different E-Signature solutions to sign and send a Non-disclosure Agreement for your various needs:
PandaDoc
If you want to make an account on the Pandadoc website, you may use the free 14-day trial.
Once you've signed up, select Upload to import your NDA document into PandaDoc. If you don't have one, PandaDoc's NDA template makes it easy to create one.
Follow the on-screen instructions to connect and upload an NDA directly from your device or cloud storage.
The fields pane in PandaDoc allows you to add signatures and initials to your document and block, duplicate, lock, and move material.
PandaDoc users can use a preselected signature, draw their own, or upload one. Sign the non-disclosure agreement and then hit send.
SignNow
When you arrive at their website, it will only take a moment to log in or create an account.
Choose an NDA template, document, or archive from your device or cloud service and upload it.
Once you click "Open," a professional PDF Editor window will pop up so you can make last-minute changes to your document.
Fill in text, upload images, and make notes or interactive fields for added productivity.
You can add "Signature Fields" to have many people sign something or use the "My Signature" button to sign something yourself.
When you are finished, click the DONE button.
Jotform
Once in the Jotform's dashboard, Click Use Template if you don't have an NDA and opt to use theirs.
Click Create a New Form to view and create your NDA on PDF Editor.
Use the PDF Editor to make any necessary changes to your contract.
After you've reviewed your contract and are happy with the terms, it's time to send it to the parties involved and share it using Jotform's assigning feature.
Launch Form Builder for parties to sign an NDA.
Dropbox Sign (formerly HelloSign)
Get started with HelloSign by signing up for an account.
Download an NDA document and get one that fits your needs by customizing a template you find online or, better yet, by consulting a lawyer.
After logging in, upload the document through the "Add File" button, the "Drag and Drop" option, or one of its integrations. Choose "Me and others" or "Just others" for the confidentiality agreement.
Suppose you want to add signatories. Hit "Prepare doc for signature" to get to the best bit!
Fill out your NDA Form
If everything appears good, click the Continue button at the top of the page to save your changes. To send out for signatures, you must first return to the page titled "Get your document signed."
DigiSigner
Sign up to their website using your email address.
Upload the signed NDA from your device or Dropbox or Google Drive's cloud storage using the "Upload" button.
Click SIGN if the document is in your account. Then, scroll to the page where you need to sign.
Choose your preferred method of signing (mouse pad, text, downloading a signature scan from your device, or taking a photo with your webcam).
Move and resize the newly inserted signature to your liking before clicking the top panel's "Done" button.
Indeed, there is no longer a need to produce paper copies of documents or spend time rearranging the schedule to set up a meeting. The discovery and usefulness of E-signatures have supplanted the traditional method of physically delivering contracts to legalize business transactions and procedures.
Key Takeaways
Having the best esignature solutions in the marketing industry provides a substantial competitive advantage for you as an entrepreneur, particularly in signing NDA or other contracts. In many companies, finishing administrative chores takes a team effort, slows delivery, and decreases output.
As the first step in any business relationship, having both parties sign an NDA online using a reliable electronic signature system is an excellent idea. Esignature solutions are a type of technology that allows for faster execution, trade in a secure system, improved productivity, and lesser error rates in your NDA file and other contracts. Signing an NDA with Esignature software can save you from the trouble of having to do physical deliveries!
Best eSign software solutions